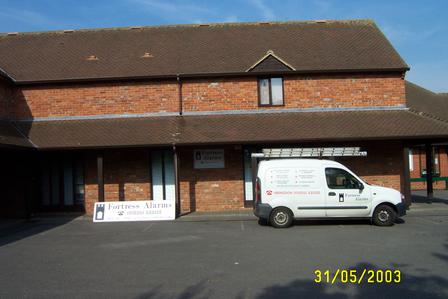 Fortress Alarms are NACOSS (NSI GOLD ACCREDITED) BS EN ISO 9001:2000 Quality Assured

Fortress Alarms security systems include: Intruder Alarms and Burglar Alarms, residential or commercial.
Fortress Alarms new systems meet the new European REQUIREMENTS
We offer all monitoring solutions RedCARE GSM,Dual-com,Digital communicator or SMS text messaging

Fortress Alarms also specialise in Closed Circuit Television Systems ( CCTV ), from single camera to complex multiple camera systems with full telemetry control. Colour, Day/Night, Dome,Static or Covert can all be catered for.

To complement our CCTV and Intruder Systems we also offer Access Control and Door Entry Systems incorporating Stand-alone or Data (PC) linked.

Our service also includes Fire Alarms (addressable/conventional, single to multiple zone)
Emergency Lighting
Automatic Lighting
Electrical Gates and Barriers
Fully integrated Systems available.

FORTRESS ALARMS CAN PROVIDE ALL YOUR SECURITY AND EMERGENCY SYSTEMS REQUIREMENTS.

Fortress Alarms are located at Dunmore Court, Abingdon, Oxfordshire.


FORTRESS ALARMS
(Fortress Alarms (UK) Limited)
Fortress Alarms provide Intruder Alarms, Burglar Alarms (Audible and Central Station Monitoring), Closed Circuit Television ( CCTV ), Access Control Systems, Fire Alarms, and Automatic Gates and Barriers. INSTALLATION/MAINTENANCE


FORTRESS ALARMS MAINTAIN AND INSTALL THE FOLLOWING
INTRUDER & BURGLAR ALARMS TO EN 50131/PD6662/DD243/BS 4737 as appropriate
CLOSED CIRCUIT TELEVISION ( CCTV )
ACCESS CONTROL
FIRE ALARMS TO BS 5839:Part 1:2002
EMERGENCY LIGHTING TO BS 5266
AUTOMATIC GATES AND BARRIERS

Fortress Suite
3 Dunmore court, Wootton Road
NR Abingdon, Oxon OX13 6BH

Tel: (01235) 533122
Fax: (01235) 533177




Monday-Friday 9.00 am - 5.00 pm





Sales@fortressalarms.com


FREE SURVEY AND QUOTATION
Please be advised that installation work is subject to an 8-12 week lead time.

FORTRESS ALARMS ARE A MEMBER OF THE SBG GROUP OF COMPANIES. For further information please visit the groups web site at SBG GROUP